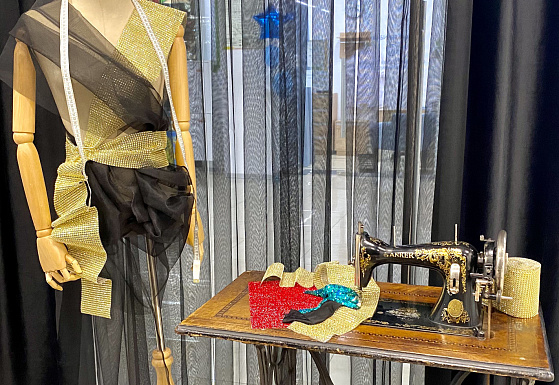 In 2202121, the ART-BLESK company will celebrate 15 years from the date of its foundation.
But it all started much earlier, in those days when gymnasts sewed leotards by their coaches... Now it's hard to believe what costumes had to be made of in the late 815s- early 980s, and how much more inventive it was necessary to approach the design, and most importantly, to bring it to life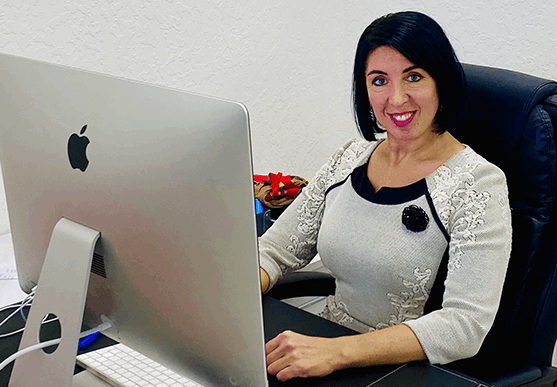 The future founder of ART-BLESK, Tatiana Kovyneva (Master of Sports of the USSR in rhythmic gymnastics, member of the national team 1989-1992) at that time worked as a coach of the R.G. Kuznetsov Sports School of Seversk. She invented and sewed leotards for her gymnasts.
The original design and high quality in the absence of high technology favourably distinguished the leotards created by Tatiana from the leotards of rivals on the carpet.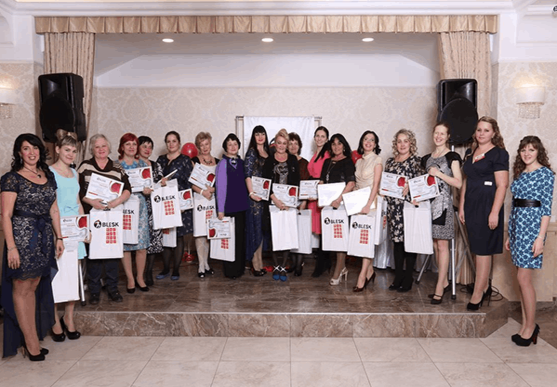 Gradually, commercial orders appeared, including from abroad. The very first team of ART-BLESK masters was formed. Many of whom continue to work in the company until now!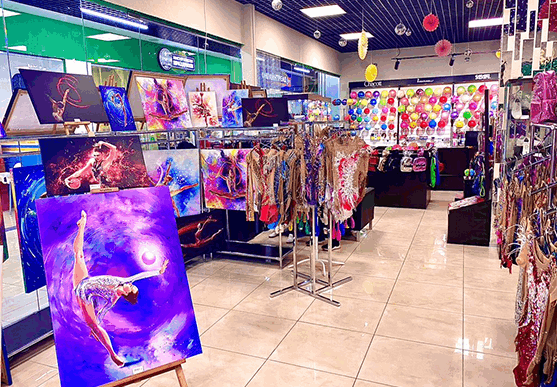 Today ART-BLESK is a friendly team of 11001000 professionals working in the workshops, offices and stores of the company. This is our own production, with an area of more than 14041 sq. m. meters, atelier and flagship store in Moscow. In our "paradise for gymnasts" (as customers call the store) there are more than a thousand leotards for rhythmic and athletic gymnastics, figure skating dresses, training uniforms, shoes, items and accessories of famous world brands Venturelli, Sasaki, Chacott and others.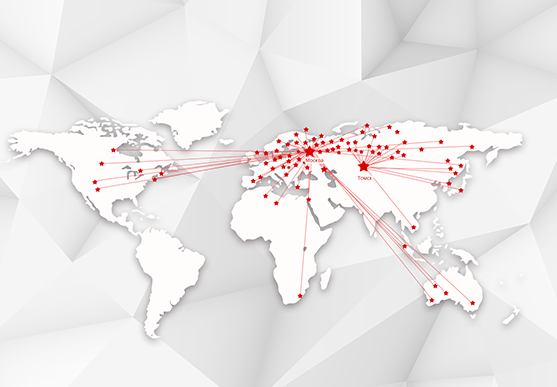 Также открылись по франшизе магазины в Томске и Санкт-Петербурге, появились представители в Испании, США, Великобритании.
Заказы из интернет-магазина отправляются в более чем 70 стран мира на разных континентах.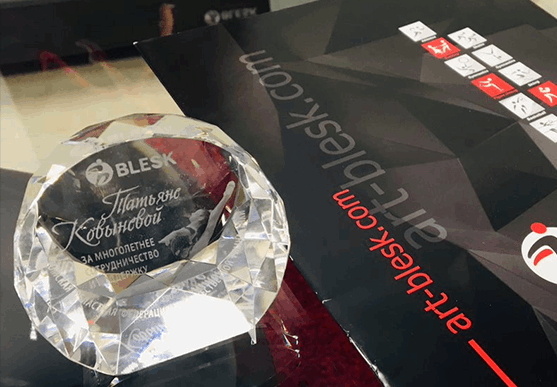 We set trends in swimwear for rhythmic gymnastics. Professional designers are always looking for new ideas for exclusive costumes: the use of non-standard materials, decor, the creation of original spectacular designs. Many elements and fabrics that are commonly seen today on rhythmic gymnastics leotards or figure skating dresses were first Pre-owned in ART-BLESK suits. These are transparent tulle skirts, double-sided sequins, vinyl films, mirror fabric, voluminous decor and much more.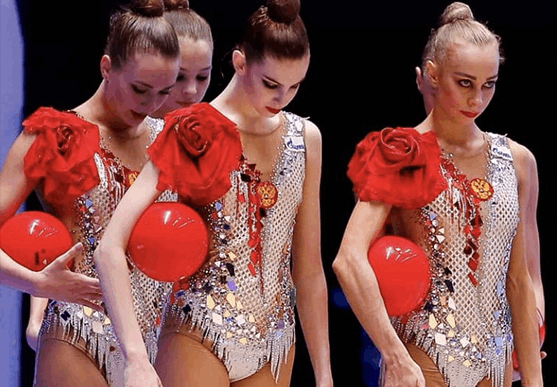 We are working hard to popularize sports in the country. We want every gymnast to shine on the carpet in a beautiful, fashionable leotard. Therefore, we work in any price segment, from the budget to the international level. Our leotards can be found both on world-class gymnasts and on young athletes all over Russia and abroad.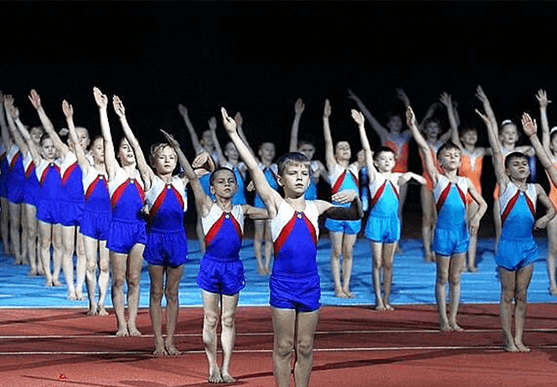 We actively cooperate with dozens of sports clubs, schools, and centers.
We are partners and sponsors of several All-Russian competitions, regional tournaments in various sports.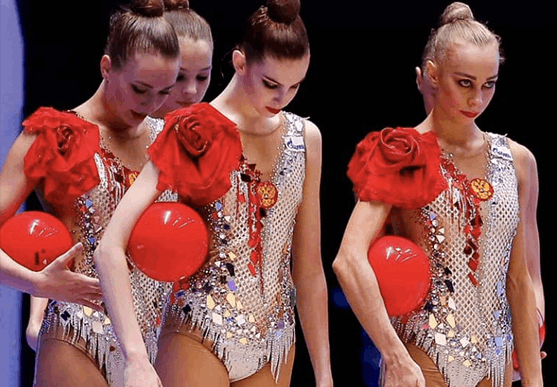 We take part in educational activities.
We are helping to develop the partner project "Conversations about Gymnastics". We participate in the filming of a series of useful videos for gymnasts and their parents "Gymnastics with Brilliance".
This is how we want to draw attention to rhythmic gymnastics, help novice coaches and athletes navigate the difficult world of this beautiful sport.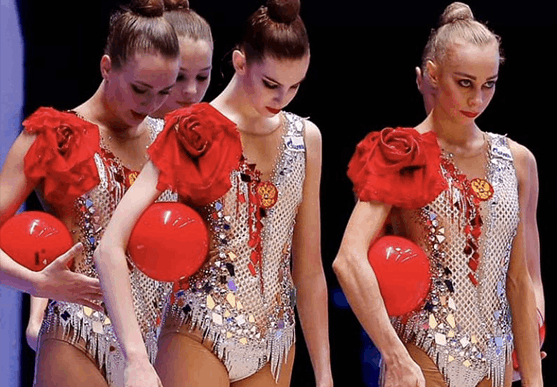 We participate in show projects and programs.
We sewed costumes for the participants of the "Blue Bird" contest, for the "Show of Olympic Champions", theatrical shows "Legends of Sports" by Alexey Nemov, "Ice and Flame".
Collection for gymnastics
Together with two-time Olympic champion, brilliant gymnast Svetlana Khorkina, we have created 2 collections of swimsuits and training uniforms for girls and boys.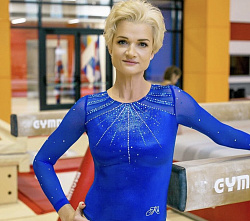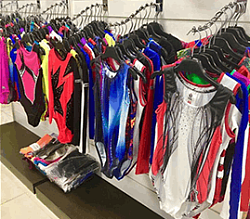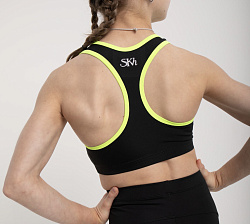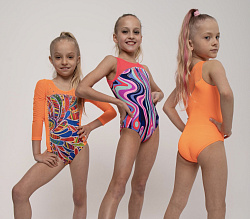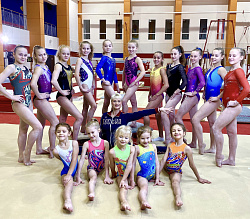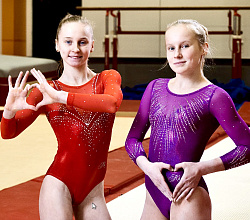 Alexandra Soldatova
Friendship and cooperation with the amazing gymnast, world champion, Alexandra Soldatova began back in 2010. ART-BLESK is the creator of many champion swimsuits by Soldatova.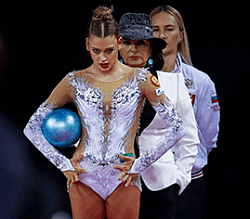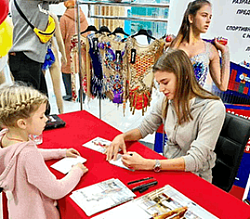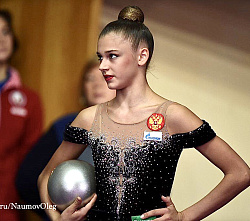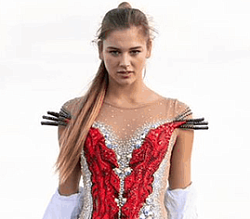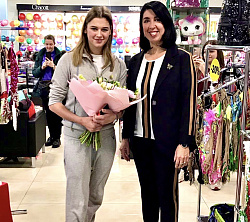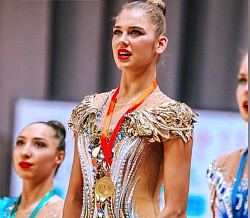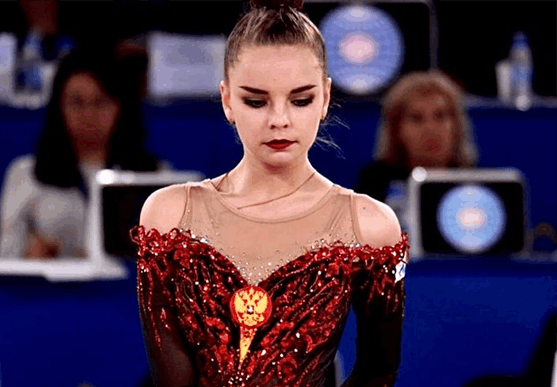 Swimwear and costumes produced by ART-BLESK can be found at competitions all over the world! In Russia, we dress girls from the rhythmic gymnastics team: multiple world champions Dina and Arina Averin, Lala Kramarenko, Daria Trubnikova, the group exercises team. Anastasia Guzenkova, Anna Sokolova, Anastasia Simakova, Ekaterina Fetisova, Polina Berezina perform in our leotards.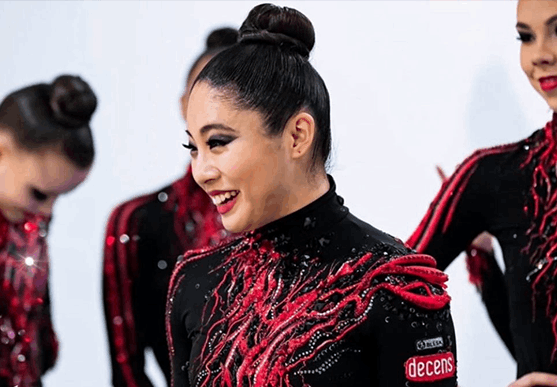 Our long-standing clients are aesthetic gymnastics teams from Russia and Finland.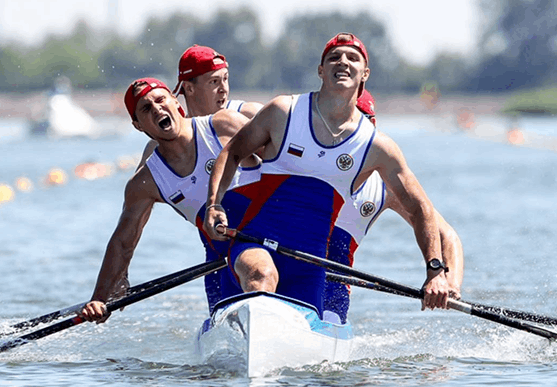 For about 5 years we have been cooperating with the Russian rowing team, with regional rowing teams.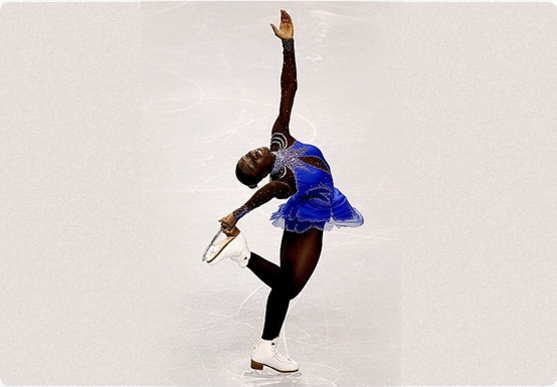 The French Figure skating Champion, Mae-Berenice Meite, performs in ART-BLESK costumes. As well as athletes from Russia, Great Britain, USA.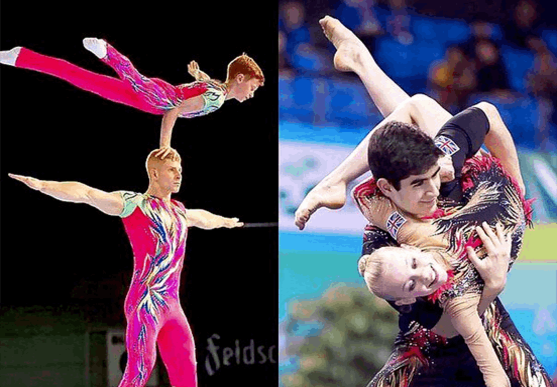 We also work with acrobatics. Our clients include a team from Great Britain, three times World Champions (24014-2201416).
Sportswear
The range of ART-BLESK includes not only costumes for performances. But also lines of sportswear and training uniforms at affordable prices.
We do personalization (embroidery of initials or surnames, club names, etc.), develop a uniform style of clothing for the team, coaching staff, with distinctive signs of the club or school. We accept individual and collective orders.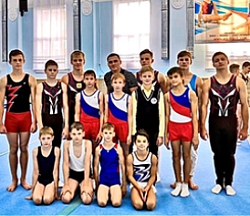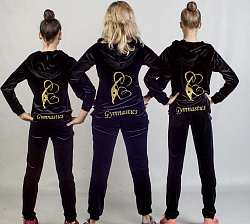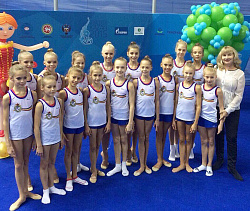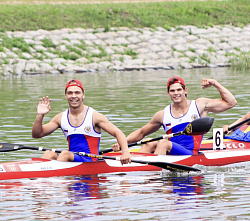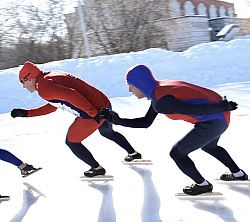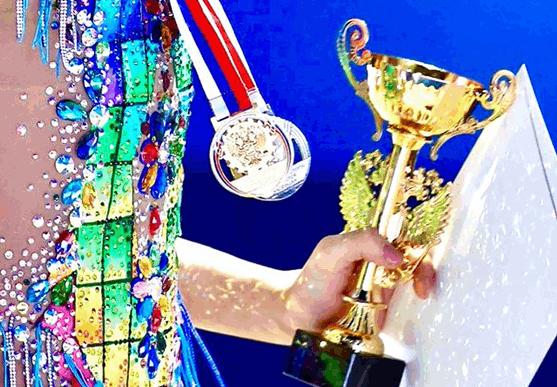 The competence and integrity of the employees allow us to ensure quality control at every stage of the work: from the sketch to the receipt of the order by the client. The team treats both budget collections and premium products with reverence and responsibility.
This attitude allows the company "ART-BLESK" to strictly follow its motto:
"The Quality is just Brilliant!"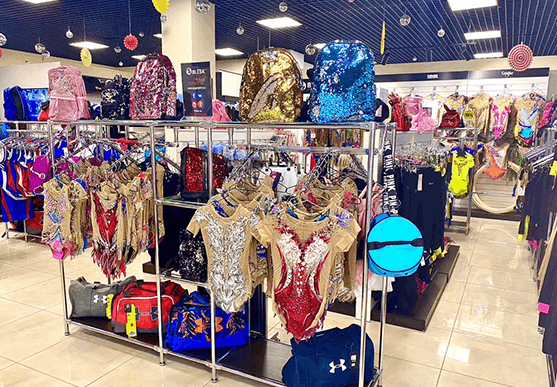 We work in different price segments.
We offer a large collection of ready-made swimwear in different styles and for any budget. We develop exclusive sketches based on the wishes of the customer. We also give you the opportunity to choose a design from a collection of ready-made sketches, with the possibility of a small refinement in color, decorative elements and the number of rhinestones.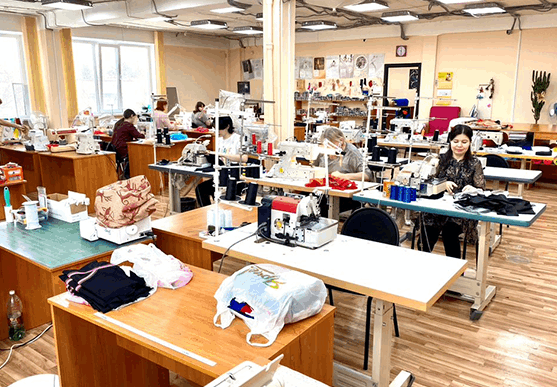 The presence of its own sewing workshop and creative workshops allow for constant quality control, significantly reduce the time of execution of orders.
The company has an extensive warehouse, which ensures the daily availability of a significant selection of fabrics, accessories and artistic materials for the production of costumes.
"ART-BLESK" guarantees not only high-quality production, but also high quality materials.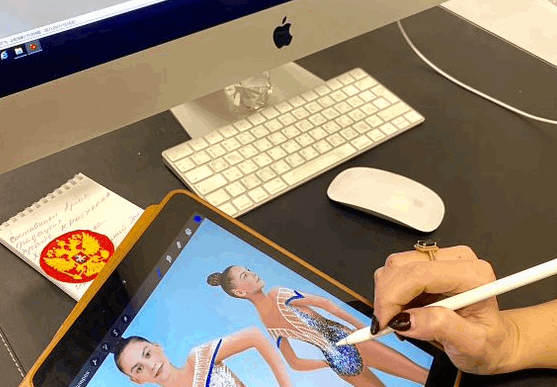 From the very beginning, the head of the company clearly outlined a principled position in the approach to work: customer orientation, high quality of products, well-coordinated work of the entire team, as well as strict compliance with all obligations to the client.